Massachusetts has a proud tradition of paper-making. In fact, there was a time that Holyoke was the world's largest center for papermaking. Generations of families worked at local paper mills and many communities were erected to support the mills. Work in a paper mill could be grueling. Mills were generally hot, dusty, and demanding. Many paper mills also utilized asbestos in the paper they processed and in their facilities. A person working in a paper mill could have been exposed from asbestos from:
Asbestos used in the paper: We know that many specialty papers utilized asbestos as an ingredient of the paper. The asbestos would be added into the pulp and anyone in the vicinity while the asbestos was being poured into the pulper or who came into contact with the raw asbestos would certainly have been exposed to asbestos fibers. Likewise, anyone who either slit the asbestos-containing paper or was in the vicinity when the paper was being slit would have been exposed to asbestos fibers.
Asbestos-containing insulation: Paper mills were generally older buildings and utilized steam to heat the facility and to run the paper-making equipment. Millwrights, welders, insulators, and pipefitters may have come into contact with asbestos-containing pipe insulation while performing their duties. Disturbing or replacing the insulation would have exposed a worker to asbestos fibers from that insulation.
Asbestos-containing dryer felts: Depending on the type of paper being made at the paper mill, asbestos-containing dryer felts may have been utilized on the paper machine. Cutting the dryer felts, changing the dryer felts or disturbing the dryer felts in any manner may have caused exposure to respirable asbestos fibers.
Asbestos-containing component parts: A paper machine and its componentry are just some of the equipment in a paper mill. There are many other types of equipment such as pumps, valves, and steam traps that are needed for the paper mill to run. Millwrights and maintenance mechanics are routinely exposed to asbestos from asbestos-containing packing and gaskets utilized in the pumps and valves in the mill.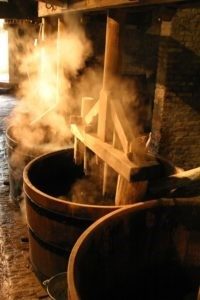 Shepard Law has represented a number of individuals with exposure to asbestos from their work at various paper mills throughout New England and New York. We have had great success getting compensation for clients who have been diagnosed with mesothelioma from their work at the following paper mills:
Mead Specialty Papers — Lee, MA
Mohawk Fine Paper — Cohoes and Waterford, NY
Erving Paper — Erving, MA
Hollingsworth & Vose Co — Walpole, MA
Strathmore Paper — Russell, MA
Kimberly-Clark/Schweitzer — Lee, MA
Westfield River Paper Company — Russell, MA
Mountain Mill Paper Co. — Lee, MA
Rising Paper Co — Housatonic, MA
Crane Paper — Dalton, MA
St. Regis Paper Mill — NY
Because of the nature of mesothelioma, many individuals who worked in paper mills in the 1960s–1980s are only experiencing symptoms now. If you or a loved one worked with or around asbestos-containing products at a paper mill, monitor your health closely. And if you have further questions, feel free to contact our firm.