This week (June 13 – June 19) was National Men's Health Week. While mesothelioma affects both women and men, it is a topic that should certainly be a part of any discussion regarding men's health. Men who have served onboard Naval ships or who have worked in industries that utilized raw asbestos and/or asbestos-containing products such as insulation, gaskets, packing and board, are at risk for contracting an asbestos-related disease.
Diseases Caused by Asbestos Exposure:
Mesothelioma:
Mesothelioma is a rare form of cancer, typically caused by asbestos exposure. The most common type of mesothelioma is pleural mesothelioma. The pleura is a thin membrane that surrounds the lungs and acts as a lubricant between the lungs and the chest cavity. Pleural mesothelioma is just that—a mesothelial tumor that occurs on and about the pleura. Since this is the most common form of mesothelioma, it is often referred to as a lung cancer. However, other forms of mesothelioma occur in the peritoneum (the membrane that surrounds the organs of the abdomen), stomach, and other organs of the abdomen. Mesotheliomas can be benign, but are most often malignant.
There is a long latency period between the time that a person is exposed to asbestos and the time that mesothelioma appears—from 20 to over 50 years.
Symptoms include fatigue, cough, muscle weakness, shortness of breath, chest pain, weight loss, fever and night sweats.
Lung Cancer:
Exposure to asbestos can also cause other forms of lung cancer. In order to determine whether a lung cancer was caused, at least in part, by exposure to asbestos, physicians typically look to see if there are any pleural markings called "plaques" on the lungs. These plural plaques are typically caused by asbestos fibers infiltrating the pleura.
Symptoms may include cough, shortness of breath, chest pain, hoarseness, weight loss or loss of appetite.
Asbestosis or Asbestos Lung Disease:
Asbestosis and Asbestos Lung Disease are non-malignant asbestos-related diseases. A series of medical tests that include a Chest CT Scan and a Pulmonary Function Test are used to diagnosis Asbestosis. Both Asbestosis and Asbestos Lung Disease vary in severity. A mild case of asbestosis may have little to no impact on your life at all while a more advanced case of asbestosis may require a person to use oxygen.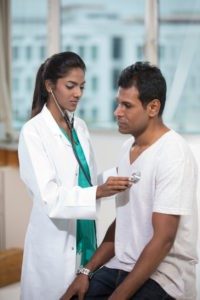 What You Should Be Doing If You Have Been Exposed to Asbestos in the Past:
Talk to Your Doctor:
Tell your doctor that you may have been exposed to asbestos and approximately when the exposure occurred so that your doctor may make an informed decision on whether you should be monitored for potential asbestos-related diseases.
Yearly Physicals:
It is important for a person who had past asbestos exposure to report any and all symptoms such as chest pain and shortness of breath to their medical care professional. You should also attend your yearly physicals and get yearly chest scans if so prescribed by your doctor.
Quit Smoking:
While mesothelioma is not caused by smoking cigarettes, it has been shown that people who have had asbestos exposures and smoke are at a greater risk to contract the disease.
During Men's Health Week and every other week, we at Shepard Law are committed to educating our clients, neighbors, friends, and the general public about the hazards associated with asbestos and with health topics in general. Please check out some of our previous blog articles that may be helpful to you, your brothers, fathers and sons:
http://www.shepardlawblog.com/2016/04/national-healthy-school-day-are-our-school-buildings-healthy/
http://www.shepardlawblog.com/category/lung-cancer-risks/
http://www.shepardlawblog.com/2015/11/5-nutritional-tips-to-help-chemotherapy-patients-stay-on-track/
http://www.shepardlawblog.com/2016/04/how-workers-brought-the-dangers-of-asbestos-home-to-their-families/
And to all the dads out there, have a Happy Father's Day.